DEUTSCHE TELEKOM T-MOBILE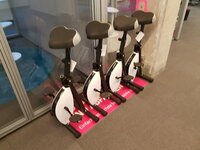 Aufsteigen und Abfahren! The employees at T-mobile in Osnabruck Germany are cycling this new year. T-Mobile starts with 500 Deskbikes so on each department there are Deskbikes that can accommodate colleagues. There is even a special Deskbike parking space developed.
Watch the video about
T-mobile and the Deskbike
.