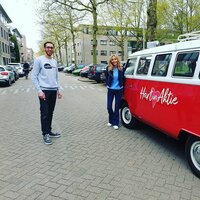 In these difficult times, Hart in Aktie helps people who need it badly .❤️
We are happy to help with that. Curious how we have contributed?
Watch the
entire episode of Hart in Aktie
here (fragment around 33:40). Curious about all previous episodes of Hart in Aktie? Check it out
here
.
(episodes are in Dutch)
Product in the video:
Flexispot - All-in-one Deskbike
Do you also want such a cool Deskbike? Take a look at our range of
deskbikes
!