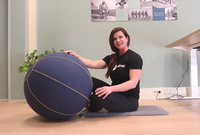 Do you have a sitting ball or fitness ball at the office or at home? With this sitting ball you can do more than just sit behind your desk or sit-stand desk.
A big advantage of sitting on a ball is the prevention of a monotonous and stiff posture while sitting. Because the sitting ball does not have a backrest, your body must constantly correct itself by balancing. Sitting balls ensure an ergonomic sitting position so that your abs and back muscles are always tightened so you stay active during your work. Sitting regularly on a ball makes you more aware of your posture. Without thinking about it!
Caroline shows 5 simple exercises with the help of the VLUV VELT sitting ball. With this sporty and short workout you will actively get through your day, and that simply at your desk! Stay fit during office hours, choose OfficeFit.
Products in this video